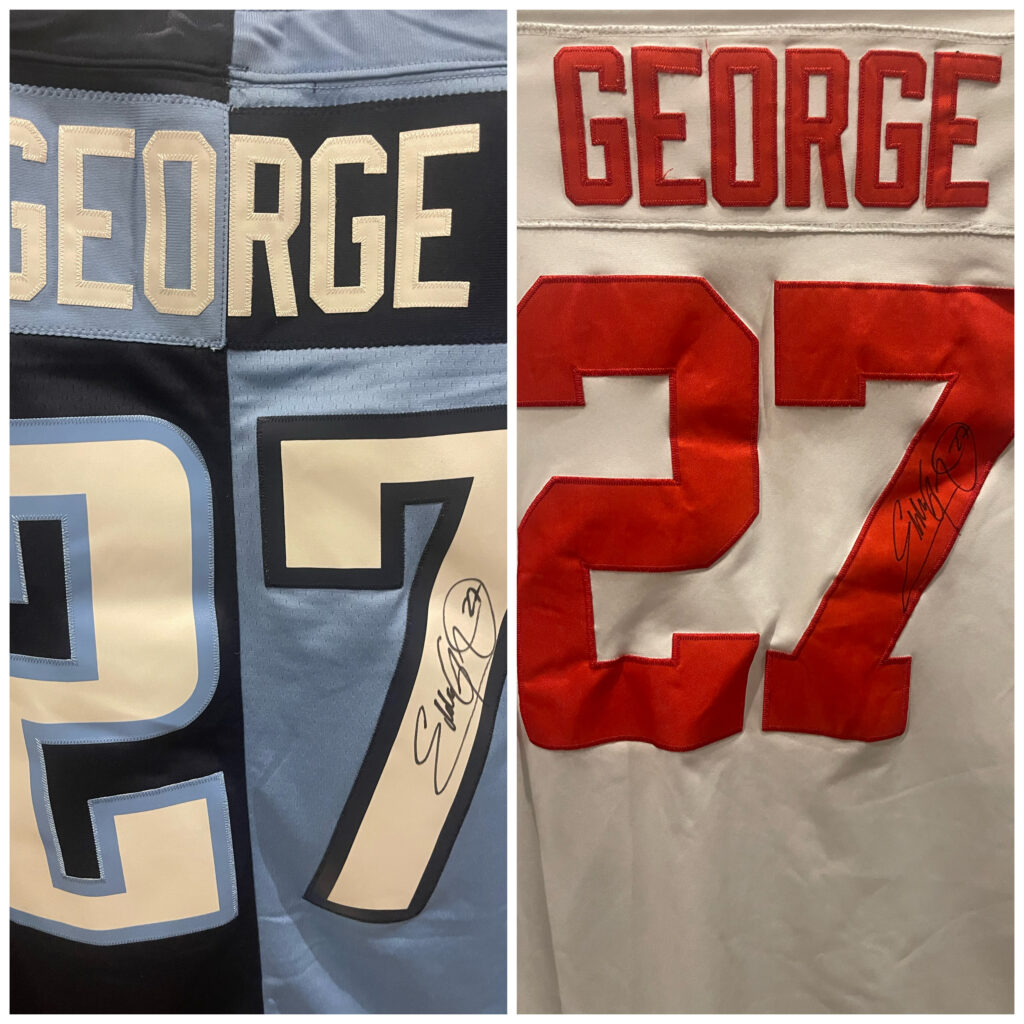 Man… Don't allow ANYONE to tell you dreams don't exist in the real world. I'm literal living proof that they do! But sometimes it's about timing, patience, confidence, and some luck needs to also be involved 😉
Flashback to a time in February (February 1st, 2023 to be exact) when I made a social media post regarding the 'reason I became a Buckeyes fan' at the age of seven. (You can see that Instagram Post HERE). I spoke about Eddie George being my favorite player. That he was the reason I cheered for THE Ohio State University.
No longer than ten minutes after posting this (where I tagged him in the video, thinking NOTHING of possibilities of speaking with the man), Eddie himself messaged me in a DM on Instagram saying "You ask and you shall receive! Let's make it happen bro!"
Naturally I couldn't believe it. I responded with "No way!!!" because even at the age of 34, I was still talking to my childhood hero! The superstar I looked up to! The guy who MADE me into The "Boise Buckeye" to begin with.
Through correspondence with his assistant and a few scheduling adjustments, we were able to make the interview happen on my show. What many do not know, is that during the 'first take' of the interview, AFTER all the schedule adjustments and all, the interview didn't go as planned as we were having technical difficulties. My sound wouldn't work on my end and we had to actually re-schedule the interview AGAIN!
Luckily for me, Eddie was patient with me, and we got it set up. Again, even in the final product of the interview, the sound was off. My microphone didn't work (and actually that ended up happening for three more episodes AFTER that too), but we were able to get through the interview and Eddie dropped some amazing golden nuggets for the listeners on the show!
It was nerve racking. Some ask me if I still get nervous, and the answer is usually no, but for this one, I was anxious and excited to do all of that with my childhood superstar! But it was also one of THE coolest things that's happened to me during the 6 and 1/2 years of running my podcast!
There were many times during the interview where I sat there thinking… DUDE, I'm living out my DREAM!! This is MY PLATFORM and my DEAM INTERVIEW is happening on MY PLATFORM!!! Holy cow!! It was truly a dream come true!

Here are a few things that I learned during this process that I'd love to share with you:
Go For It!! – If there's a goal or something you are trying to accomplish or reach, make sure to go for it! What's the worst that can happen? In my case, what's the worst that could happen? Eddie would say "no" to doing an interview? Cool. He'd join the many others that have done the same thing, and I'd simply move on to the next opportunity. But I could at least live with myself because I went for it. So make sure whatever it is that you're trying to dream for and reach towards, that you GO FOR IT!
Take Time for Others!! – Eddie is a head coach for a college football program these days. I'm just a dude from Idaho doing a sports podcast, and what I learned from him, was that it's super important to take time for others. He didn't have to even DM me and say a word about it, let alone re-schedule after the technical difficulties that we experienced during the interview. But the fact is, HE DID it and it literally was one of the greatest things that could have happened to me!
Have Confidence! – While I was anxious for this particular interview, there was also a set of CONFIDENCE that I had. Because this was MY PLATFORM that I had put my time and efforts into so that I could create this type of an opportunity. I was the one asking the questions. I was the one steering the conversation, and I had the confidence to do that, regardless of the 'big name' that he is.
I want my experience with interviewing Eddie George to show others that dreams literally do come true. It's not a fairy tale. It's something that does happen. Sometimes luck is involved, but there is also a saying that goes: "luck is when preparation meets opportunity"
I had been preparing for that interview for SIX YEARS!! I may not have known it, but I really was. I have worked on my social media presence, learning how to make posts that are creative and engaging with my followers and listeners of my show.
I've continued to work on my interviewing skills. Constantly trying to evolve so I can truly get the stories from my guests that I want to hear. I've worked on building a local connection with people in my own area, which has been huge for building the legitimate tribe of supporters for me.

Those are just a few ways that I've been preparing the last six years for this opportunity. So I was ready to go when it was time!
It doesn't matter if you're old, young, whatever. Please do yourself a favor and make sure to prepare for the opportunities. Live them out in your head, before they even become a thing. That way when the time comes, you won't be 'as surprised' by things.
And if you want to hear the Eddie George Interview please check it out below:
YouTube:
Apple Podcasts:
https://podcasts.apple.com/us/podcast/eddie-george-former-nfl-and-ohio-state-buckeyes/id1195653965?i=1000603596030
Spotify:
If you ever have any questions about podcasting, please feel free to reach out as I provide consulting on podcasts and would LOVE to help you out!
Shane Larson
The Gametime Guru